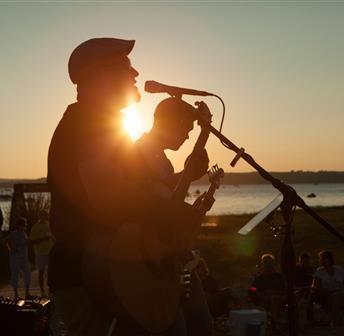 Live Music at Governors' Pool
June 12 - September 4

7:00 PM - 9:00 PM

Governors' Pool at Grand Traverse Resort and Spa
June 12 - Cameron Six
June 19 - John Harlan
June 26 - Lee Malone & Andrea
July 3 - The Plumville Project
July 10 - Lee Malone and Andrea
July 17 - John Harlan
July 24 -Cameron Six
July 31 - Cameron Six
August 7 - John Harlan
August 14 - Perkolators
August 21- Lee Malone and Andrea
August 28 - Cameron Six
September 4 - Little Weekend
Entertainer Descriptions:
Cam Six is a talented guy with a huge passion for music! He brings a youthful Energy to his venues and covers a wide variety of artists including John Mayer, Shawn Mendes, Ed Sherran and Coldplay. He also covers classics such as John Denver, Merle Haggard and Jim Croce.
John Harlan performs various musical styles including pop/rock/folk/indie and more. Some of the artists he's covered are Matchbox 20, Switchfoot, Amos Lee, Black Crowes, Edwin Mccain. He has also performed some of his own original music!
Lee Malone and Andrea bring a mix of oldies and modern music. We cover a wide variety of artists from Elvis, Johnny Cash, Dusty Springfield, John Denver, Nancy Sinatra, Alannah Myles, Norah Jones, Fleetwood Mac and more. With styles including Motown, Rock, Country, Folk and Pop there is something for everyone!
The Plumville Project is a dynamic duo featuring an electronic wind instrument, guitar and vocals. Relax by the pool as Jerry ByVille and Jeff Hanna soothe your senses with their cool sounds.
Their diverse backgrounds in music allow them to perform many styles including Jazz, Blues, Rock, Country and R&B.
The Northern Perkolators - Featuring Larry Perkins, one of TC area's favorites and Dave Bond, harmonica player from the Big Weekend band from Chicago. The Northern Perkolators will be brewing a mix of classic rock, with a bit of country and blues. You'll be singing along to some of your all-time favorites.
Little Weekend - Dave Bond and Tom Furlan from the Big Weekend band out of Chicago, will be playing some of your favorite classic rock songs and more. Petty, Stones, Zep, Beatles and much, much more. Come on out and join in on the fun!
*Weather dependent.