TENNIS COURTS AT GRAND TRAVERSE RESORT AND SPA
"Watching our Juniors grow both as players and as people through our program is truly rewarding." — Lisa Seymour, Director of 10 & Under Tennis
The Resort's tennis facilities stand out as one of the leading facilities in the Midwest. Tennis is one of The Club's most active programs, with five indoor and four outdoor courts, plus leagues for varying ages and skill levels, group lessons, and private instruction from a top-tier staff of tennis pros and instructors.
The Director of Tennis oversees the Resort's tennis instruction, leagues, and tournament play. Our staff includes USPTA/USPTR professionals and tennis instructors.
JUNIOR TENNIS BROCHURE ADULT TENNIS AND PICKLEBALL BROCHURE
PICKLEBALL HOW TO BOOK ONLINE RESERVATIONS
Can't find what you're looking for? Contact the Tennis Department at 231-534-6776 or [email protected].
---
BOOK A PRIVATE LESSON
Click below to book a Private Lesson with one of our Tennis Professionals.
GEORGE LOWE (TENNIS + PICKLEBALL) DANE FOSGARD (TENNIS) LISA SEYMOUR (TENNIS + PICKLEBALL)
KYLE WARNER (TENNIS + PICKLEBALL) ALEXIS CROSS (TENNIS + PICKLEBALL)
Our pros will follow up with you to confirm that there is a court available for your lesson.
Questions? Contact our Director of Tennis, George Lowe, at 231-534-6776.
---
Tennis Rules
The Rules of Tennis of the USTA shall apply at all times, except when in conflict with the local rules or with any of the rules herein.
Court reservations may be made by phoning 231-534-6770. The Member/Resort Guest reserving a court time must give his or her name and Membership number and the names of the other group members. No standing reservations will be accepted. There is a maximum of four (4) players to a court at one time. Children under 15 years old must be accompanied by an adult on the tennis courts.
All players must check in and register at the Club Desk prior to their court time. Members shall present their cards and register all guests. Member-Guests and Resort Guests will submit Payment for all court time and lessons prior to going on court.
Players who fail to cancel their reservation 24 hours prior to their scheduled lesson or court time or do not register prior to their lesson or court time may be charged a cancellation fee.
At the end of their playing period, players must promptly pick up tennis balls and relinquish their court to the next Players.
Proper athletic attire as determined by the Club is always required. Blue jeans, bathing suits, slacks and walking shorts are not permitted. Regulation tennis shoes are required.
Proper tennis etiquette should be observed at all times. Excessive noise, racquet throwing, or profanity will not be permitted at any time. Trash and other litter must not be left on the Courts. Players will walk to and from their tennis court using the walkways behind the curtains.
Use of the tennis courts shall always be subject to the control of the Tennis Management Staff. The Tennis Management Staff shall determine the suitability of the courts for play. Courts will be closed when necessary for maintenance operations, when dictated by safety considerations, or under adverse weather conditions.
Members shall have a seven-day sign up privilege to reserve tennis court times.
---
Grand Traverse Resort & Spa
Tennis Cancellation Policy
Tennis Court Cancellation Policy: Indoor Tennis and Pickleball Court rentals have a 24 hour cancellation policy. Courts cancelled less than 24 hours in advance are subject to full payment. Please contact the Health Club desk (231-534-6770) for all court cancellations.
Private Lesson Cancellation Policy: Private tennis lessons have a 24-hour cancellation policy. Lessons cancelled less than 24 hours in advance are subject to full payment. Please contact your tennis pro or the Health Club Desk, 231-534-6770, for all lesson cancellations.
Check-In & Booking Policy
All Health Club Members, Club Member Guests and Resort Guests must check in at the Health Club Desk ahead of time to confirm all players in attendance for the court. All member and guest names must be given to Health Club desk when booking the court AND when checking in on the day of your court rental. Please plan to arrive 5-10 minutes before your scheduled court time in case there is a short wait at the Health Club desk check in.
Questions? Please contact George Lowe, Tennis Director at
231-534-6770 or [email protected]
---
COURT TIME
Member Contract Court Time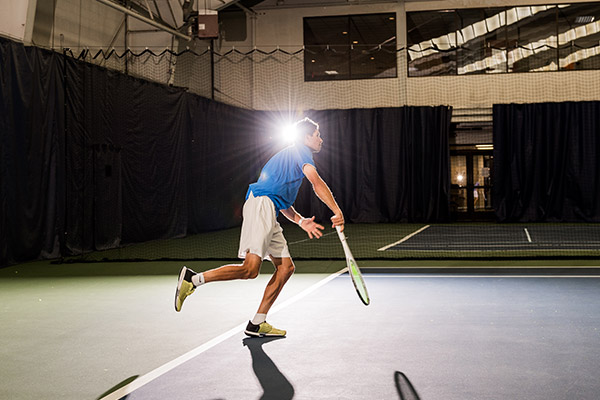 Contract court time is the way to guarantee that you have a court to play on each week.

Contact Lisa at 231-534-6786 for details and signup. You can sign-up for either a half season (14 weeks) or a full season (28 weeks).
MEMBERS CLICK HERE FOR ONLINE COURT RESERVATIONS
CREATE YOUR ONLINE MEMBER ACCOUNT
Non-Members:
Non-members are welcome to register for any tennis class. Your registration will not be confirmed until one week prior to the session start date. Non-members may be bumped from a class and refunded at any time.
Tennis Court Rental Rates:
Club Members and hotel guests can now reserve indoor and outdoor tennis courts (weather dependent) by calling the Health Club Desk, 231-534-6770. Names of all players in your group are required for all court reservations. Members shall have a seven day sign-up privilege to reserve tennis court times.

Cost:
Outdoor: Member FREE, Hotel Guest $30/hr
Indoor: Member $16/hr, Hotel Guest $30/hr
Ball Machines:
Club Members and Hotel Guests are able to reserve a ball machine for indoor court use only. Please contact the Health Club Desk, 231-534-6770 to make your reservation.
Cost:
Member: $15/hour
Resort Hotel Guest: $30/hour
Walk on court time is currently not available. Please make sure you have a reservation for your court.
---
Tennis Racquet Stringing Services
Grand Traverse Resort and Spa offers full-service racquet stringing and gripping services. Stringing is guaranteed within 48 hours. If you require a faster turnaround, contact the tennis department at 231-534-6776 with your request.
CHECK OUT OUR STRINGING BROCHURE HERE
---
Not sure what string to use? Contact the tennis department or talk to one of our pros and they will be sure to recommend a string and tension that fits your game! Also available – grip build ups, bumper guard replacement and more! Contact the tennis department with questions or for more info – 231-534-6776.
Brush up your serve or work on your volleys at Grand Traverse Resort. With a dedicated staff, a fully stocked pro shop, and instructors on site, we're here to help when you need it.
---